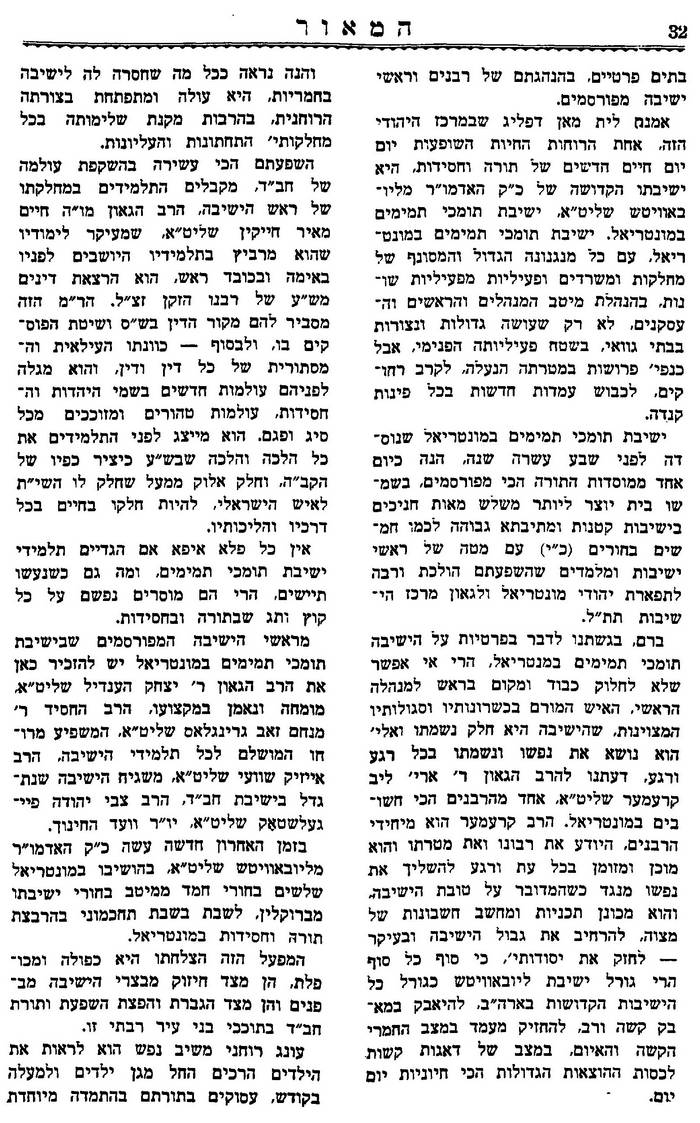 FREE TRANSLATION OF AN EXCERPT FROM THE HEBREW ARTICLE PRINTED IN THE POPULAR MAGAZINE "HAMO'OR" – Volume 84, 8 Tamuz 5719, July 14, 1959.
There is no question that one of the places where the soul can be permeated with new life of Torah and Chasidus is the Holy Yeshiva of the Lubavitcher Rebbe, Yeshivas Tomchei Tmimim of Montreal. This Yeshiva, with its large organization and branches, is under the finest leadership of directors and leaders who are not only successful with their own community but who reach out, with lofty aspirations, to those that have drifted away in order to bring them closer to Yiddishkeit. In so doing, they establish new outposts in every corner of Canada.
Yeshivas Tommchei Tmimim of Montreal, that was established seventeen years ago, is today one of the most renowned Torah institutions, educating more than three hundred students at the Yeshivas Ktanos and fifty older Mesivta students. The influence of the staff of Deans and teachers is gaining momentum for the reputation of Montreal Jewry to the great satisfaction of the Central Yeshiva Tomchei Tmimim .
However, as we take a closer look at Yeshivas Tomchei Tmimim Lubavitch, we must pay respect first and foremost to the Head Director, a man on a unique level, very talented and of exceptional character. His very life-breath is the Yeshivah every second of the day. We refer to Harav HaGoan Reb Arye Leib Kramer shlita, one of the most prominent Rabbis of Montreal. Rabbi Kramer is a unique Rabbi, who knows what Hashem expects of him and is prepared to do all in is power for the benefit of the Yeshiva every moment of the day and night. He has prepared plans and ideas to expand the Yeshiva and, more importantly, to strengthen its existing foundations. For after all, the goal of the Lubavitcher Yeshiva is similar to the goals of all the Holy Yeshivas of the USA – to do all in its power to survive in these difficult financial times. It is with much anxiety that it seeks to cover the high expenses of basic daily necessities. It is apparent, however, that for all that may be lacking in materialism it is gaining and developing spirituality in all its endeavours.