If you have a story or encounter about Rabbi Kramer please share it with us by emailing encounters@23.20.14.108.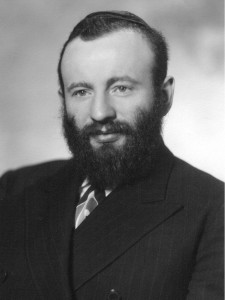 The Early Years (1918-1939)
Rabbi Aryeh Leib Kramer was born in the city of Chelm, Poland, on Shabbos, 13th of Shvat 5678 (January 26, 1918).
His parents, Yitzchak Michel and Sarah Ita Kramer, were of an illustrious family of Gerer chassidim.
Rabbi Kramer fondly recalled playing with the children of the Gerer Rebbe as a child. When he was twelve years old his father took him to the Gerer Rebbe to ask which Yeshiva he should attend, as he was progressing well in his learning. The Gerer Rebbe advised him to go to the Lubavitch Yeshiva in Warsaw, as it was a reputable learning institution.
Rabbi Kramer studied in Warsaw until the age of 17, at which time the yeshivah relocated to the city of Otvosk (Otwock).
In 1938 the previous Lubavitcher Rebbe, Rabbi Yosef Yitzchak Schneerson, instructed Rabbi Kramer to establish a yeshiva in the town of Kalazhin. The yeshiva functioned until the war broke out in 1939, at which time the students were sent home. This was the last time Rabbi Kramer would ever see his father.
On the Run (1939-1941)
Rabbi Kramer then returned to Otvosk, Poland before continuing on to Warsaw. Following the Lubavitcher Rebbe's instructions, he attempted to smuggle himself into Lithuania among a group of friends but was discovered by border personnel. However, since he had a bent-over posture due to prolonged yeshivah study, and the snow had turned his beard white, the officers mistook him for an old invalid and allowed him across the border into Lithuania.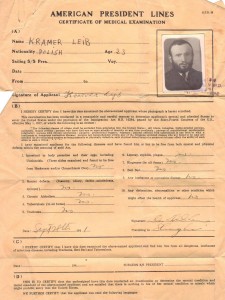 Rabbi Kramer arrived in Vilna, where he made contact with Chiune Sugihara, the Vice Consul for the Japanese Empire in Lithuania. Mr. Sugihara provided Rabbi Kramer with visas for the boys in the Lubavitch Yeshiva, and Rabbi Kramer assisted Sugihara in stamping some of the thousands of other visas which he issued. Word of Rabbi Kramer's instrumental role in assisting with the visa distribution quickly spread through the community. Students of other yeshivas, who were also attempting to obtain visas, said that they wanted a person like Rabbi Kramer to help them.
Rabbi Kramer traveled to Kobe, Japan and stayed there for six weeks after obtaining a temporary visitor's permit. He then continued on to Shanghai, China, where he settled for a longer period of time. He helped establish a new branch of the Tomchei Temimim Yeshivah under the auspices of the Lubavitcher Rebbe. He was appointed manager (Menahel Gashmi) of the yeshivah, catering to the physical welfare of his fellow students.
Rabbi Kramer sent packages from Japan to his family in Nazi-occupied Chelm, and received letters in response. The following is a free translation of one such letter, written by his sister Ruchla: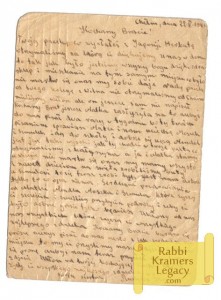 Dear Brother,
We received your package with the tea from Japan, for which we thank you. Nothing has changed here – thank God, we are all healthy. Our home and the shop are at the same place. Don`t worry about us. We are doing fine. We did not receive the package from your friend from Vilnius. We were sent regards from Chaim, but he hasn`t written to us yet. My dear Brother, Mother deserves to be written twice a week, because your letters bring happiness to Mother and me. Shmulek and Moszek go to school and they study well. Mendel is already as tall as you are, so he can wear your coat, which we received from Kałuszyn; Mother and I work in the shop. Do not worry about us. We have everything, we even managed to make shoes for the children, Szmulek will also have new shoes. We are all well, we only miss our father. Warmest regards from Mother, Mendel, Shmulek and Moszek – they wish you good luck and happy and safe journey, and all the best wherever you are. Kind regards from all of us who wish you all the best from afar. Dear Brother, I ask you to write to us quite often; we can send you our photos when you'll be at your place, I also ask you to send us your photos. Hugs from your loving sister, who wishes you all the best from afar.
Sincerely,
Your sister Ruchla Kramer
(Click Here to read accounts of the terrible fate of the Jews of Chelm r'l. May their blood be avenged.)
Several months later, the Canadian government announced that it would be issuing a limited number of visas to students in Shanghai. The Lubavitcher Rebbe lobbied to get the maximum possible number of visas for the students; in the end they managed to obtain nine. They raffled off the visas amongst themselves, and Rabbi Kramer was the very last winner.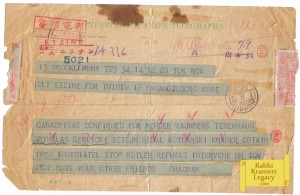 The boat departed Shanghai in Tishrei 1941. The wife and child of the Chofetz Chaim (a prominent Eastern European Jewish rabbi who had passed away in 1933) were also traveling on the boat, which docked in San Fransisco. After a brief welcome gathering organised by the Joint Distribution Committee and the local community, the students were transported onwards to Montreal, Canada. They arrived on 3 Cheshvan – 24 October 1941. (Click here for more information.)
Of the many branches of Rabbi Kramer's extended family, only two survived the holocaust –  Herschel Kazman (Rabbi Kramer's mother's brother) and Chaim Kramer (Rabbi Kramer's father's brother) and their respective families.
Canada – Planting New Seeds (1941-1960)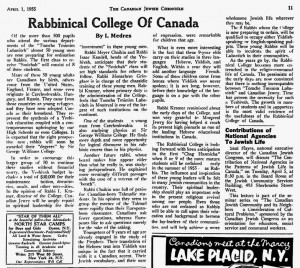 Upon his arrival in Canada, Rabbi Kramer took upon himself the task of organizing taxis to take each student to the place they had been assigned. (Before their arrival, advertisements had been placed in the local Jewish newspaper to find volunteers to accommodate the refugees.) Rabbi Kramer was accommodated by the Halpern family together with Rabbi Gerlitzky, one of the other nine Lubavitcher student refugees.
The Lubavitcher Rebbe told Rabbi Kramer to start a Yeshiva in Montreal together with the other students.  Thus, hardly a day after his arrival in Montreal, on Motzei Shabbos, the yeshiva was established with Rabbi Kramer as its acting director.  It was initially located in Montreal's Nusach Ari Shul.
During these turbulent post war years there were many Jewish students held in a prisoner-of-war camp on St. Helen's Island, located near Montreal. The students mostly came from Germany and were thus treated as enemy prisoners-of-war. Rabbi Kramer arranged for their release and took full responsibility for their wellbeing, thereby increasing both the staff and the students of the yeshivah. With great effort and dedication Rabbi Kramer had to raise the money for all the teachers' salaries as well as the new refugees' room and board.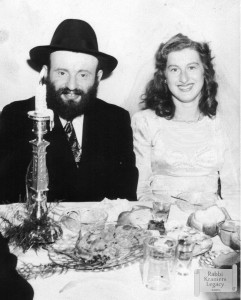 In 1947 Rabbi Kramer married Chaya (Clara) Halpern, a true aishes chayil (woman of valour) who for more than 50 years aided Rabbi Kramer through her love and dedication.  In spite of his gruelling schedule and commitment to communal work, Rabbi Kramer was totally and absolutely devoted to his wife and children: Michel, Sara, Yosef, Esther and Shmuel, and later to his grandchildren and great-grandchildren.
The Tomchei Temimim Yeshivah didn't charge tuition and it grew rapidly as soon as it was established.  By the mid-1950s there were five hundred students and Rabbi Kramer had officially assumed the role of director upon the instructions of the previous Lubavitcher Rebbe. The yeshivah had a strong secular program and attracted students from all types of Jewish families. Many of the graduates went on to become professionals.
In 1956, when Rabbi Kramer's first daughter Sara needed to go to school, Rabbi Kramer wanted her to go to Chabad school and  the Rebbe said that now was the right time to start a Bais Rivka. It started with only five or six girls but is now a flourishing school catering for over 550 girls ranging from pre-school through to High School.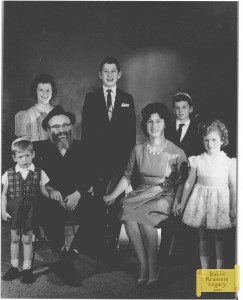 To Rabbi Kramer's family he was the epitomy of a "ChaYaL" – a Chossid, Yireh Shomayim (G-d-fearing person) and Lamdan (scholar) – and a wonderful role model. He lived a life of sincere dedication to Torah, Avodah (service) and Gemilus Chassadim (kindness).
Rabbi Kramer always made time to learn Torah, often burning the midnight oil for many hours.  He would recite Tehillim (Psalms) at every spare moment including while waiting for the light to turn green while driving. Rabbi Kramer had a custom of telling a story every Friday evening during the Shabbos meal, after the chicken soup course. He would also make a l'chaim announcing all the upcoming simchos in the family that week. Many of his children and grandchildren practice these beautiful customs to this day.
The Later Years – An Orchard Blossoms (1960s-1990s)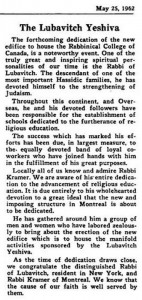 In the early 1960s, the yeshivah required a larger building to accommodate its students. Rabbi Kramer met two businessmen, Aaron and Nathan Cohen, who donated a plot of land and built the building.
The ground-breaking ceremony took place on September 11, 1960, and the grand, newly-constructed campus was dedicated on May 27, 1962. On that occasion the Canadian Jewish Chronicle newspaper paid tribute to the Yeshivah and Rabbi Kramer, stating:
"Locally all of us know and admire Rabbi Kramer. We are aware of his entire dedication to the advancement of religious education. It is due entirely to his wholehearted devotion to a great ideal that the new and imposing structure in Montreal is about to be dedicated… we congratulate the distinguished Rabbi of Lubavitch, resident in New York, and Rabbi Kramer of Montreal. We know that the cause of our faith is well served by them."
A big part of these schools' success was Rabbi Kramer's dedicated fundraising which was done the old-fashioned way: door to door. This way he made friendships with his many acquaintances and became their Rabbi and mentor. He went to all of their simchas, visited them in hospitals and went to their funerals. At their weddings, he would stay as long as he could and dance the old Chassidic dances with the men.
Rabbi Kramer continued investing his energies into the growth of the Yeshiva and Beth Rivka schools and established Camp Pardes Chana for girls, thereby immeasurably contributing to Montreal's Jewish community. During this period he also assisted families attempting to leave the Soviet union and helped them establish new lives of freedom in both Canada and the US.
In 1981 Rabbi Kramer founded the Hebrew Day School with the blessing of the Rebbe. The goal of the school was to attract children whose parents might not consider sending their children to a traditional Yeshiva environment, but would feel comfortable in a Jewish orthodox day school setting.
With a Brocha from the Rebbe, Rabbi Shmuel Kramer and his wife Sara, moved to Montreal in 1983 to build up the fledgling school with the blessings of the Rebbe. From its humble beginnings, it slowly outgrew its space and in 2001 opened a second establishment. Today, under the direction of Mrs. Sara Kramer, the school comprises two installations with an enrolment of 148 children, and a staff of 40. It is a highly sought after pre-school offering a quality education unmatched in the Greater Montreal area.
Rabbi Kramer continued his communal activities throughout the later years of his life, personally assisting the many who came to him for help in a diverse range of circumstances.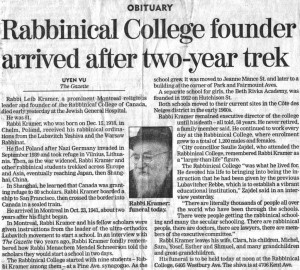 Seldom would a Jew be found in Montreal who has not heard of Rabbi Kramer. Generations of families have been imbued with the beauty of Yiddishkeit due to Rabbi Kramer whether it is via the Yeshiva, Beth Rivka, Camp Pardes Chana or through personal encounters.
This article is based on a school project written by Devorah Drizin, great-granddaughter of Rabbi Kramer, in addition to the following historical articles (click on articles to read): "History of the students in Shanghai" (Hebrew) and "The Empire established by Nine Students" (Hebrew).